In 2004, Jett established Yellowstone Wilderness Outfitters, offering day rides and pack trips into the remote backcountry of Yellowstone National Park. His original crew included Bob Berry and, starting in 2005, Carrie Byron joined YWO as the General Manager. Each year the business grew, and Jett and Carrie added more trucks, more trailers, more guides, more horses. At the height of the operation, they ran six guides, six trucks and trailers, and eighty-six horses and mules.
With seven university degrees between them, the focus of YWO was necessarily education and advocacy for the preservation of Yellowstone National Park.  It proved to be a very successful business model. By 2012, YWO was the busiest outfitting operation in the history of the park. At the heart of the success was an understanding that a business was only as good as the people who worked there. Jett and Carrie employed wildlife biologists as guides, people who could speak intelligently about Yellowstone. Some of these guides went on to lead successful careers in wildlife biology, earning doctorates and NSF grants. Some guided in the offseason in Australia and New Zealand and still work in the horseback industry today. Among the people who helped to make YWO so successful were Hannah Lipomi, Shannon Forshee, Stephanie Kloepfer (Wingren), Grace Whitmore, and a very special shout-out to Bob Berry, Jess Mullins, and Bijmin Swart.
The success and popularity of YWO didn't go unnoticed in the world at large. YWO's longest and most popular pack trip into the Yellowstone Thorofare became the backdrop for a novel by Wyoming's best selling author, C.J. Box.  In the novel, Back of Beyond, Jett is caricatured as an evil outfitter and Carrie as his wanton guide.  By 2013, YWO became a yearly recipient of TripAdvisor's Certificate of Excellence award. In 2016, documentary filmmaker Ben Masters sought out YWO to collaborate on several pack trips featuring Ben and mustangs from the wildly popular book and film Unbranded (available on Netflix). In 2017, Jett became one of the featured individuals in Ruth Crocker and Steve Horan's People of Yellowstone.,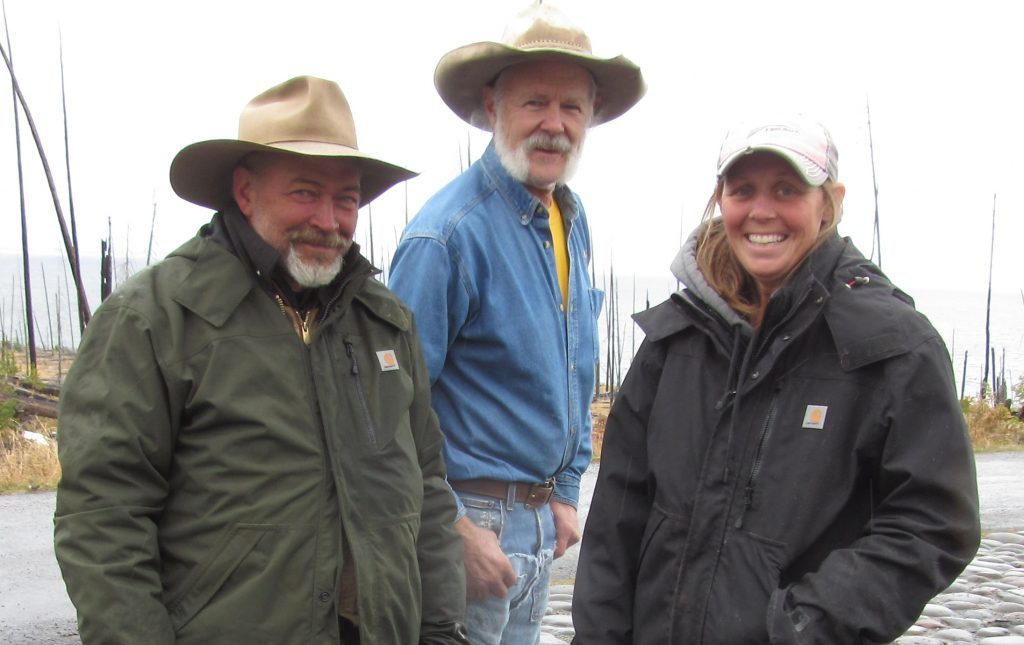 Above, Jett, Bob, and Carrie after the last pack trip. 
Below is Carrie's latest YWO video.